A sleep diary is a useful way to track your sleep at home. A typical sleep diary covers a two-week period. It is most effective when you complete it daily.
A sleep diary allows you to record when you went to bed, woke during the night, and woke in the morning. This will help you understand your sleep pattern and how much sleep you're getting. It also will show how often you have disrupted sleep.
A sleep diary also will help you note certain activities that can affect your sleep. You will track the time of day when you exercise, nap, or take a medication. You also will record the time when you have caffeine or alcohol.
This information will give your health care provider an overview of your sleep schedule. It also may reveal other factors that are causing a sleep problem. Examples include drinking caffeine or taking naps late in the day.
---
There are many apps and sleep trackers that have a sleep diary. You also can download these sleep diary tools to help track your sleep:
Printable Sleep Diary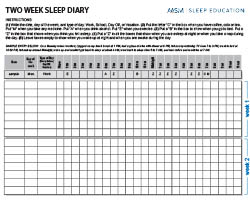 Download a printable sleep diary to log your daily habits which impact your sleep. This tool gives you the option to print or utilize the fillable fields.
Log the type of day (ex: Work, School, Day Off)
Log your caffeine intake
Log medications, alcohol, and exercise
Log your the times you are asleep
Sync your Sleep Diary
SleepTM's Sleep Diary feature will allow you to connect your Fitbit device to log your sleep details. You also have the flexibility to manually enter or adjust your diary.
Visit SleepTM and Select "Sign Up"
Select "Patient"
Complete the Patient Registration Form
Once logged in, navigate to your Dashboard
Select "Start Tracking Sleep" in the "My Sleep" tab
Log your morning and evening routines in the Log section